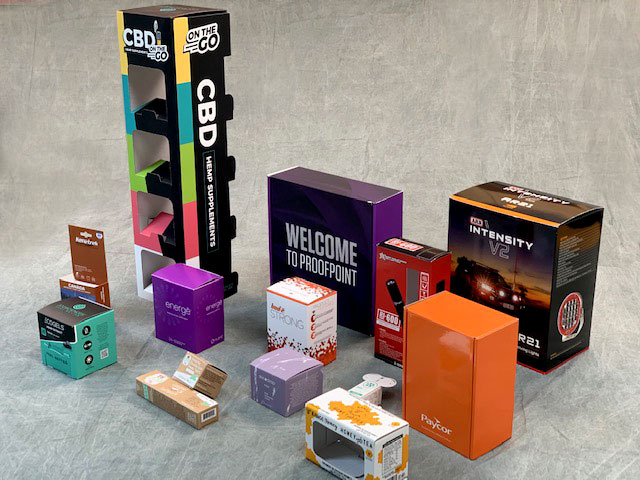 Folding Cartons
Panoramic Press has been producing paperboard folding cartons for a wide variety of customers for over 10 years. We can help you from start to finish with your carton project. We offer CADD carton design and samples, printing, finishing (including an array of coatings and other special finishes), and storage/fulfillment depending on your needs.

We can print up to 24pt board using traditional offset presses, but also digitally on our KM-1 UV inkjet press. In-house finishing capabilities include our Bobst 102-CER flatbed diecutter with Stripping & Blanking unit, Vega 102 Folder/Gluer, Embossing, Foil Stamping, Laminating, and other special finishes as well.
Litho Labels For Corrugated Cartons
If you require a more substantial carton but still want the highest quality look and feel, litho labels on E-flute or B-flute corrugate is the answer. The design and sample process is very similar to other folding cartons, we make sure the carton works for your product before going to production. By printing on the quality surface of a label and "laminating" it to the corrugate, you get print quality un-achievable with flexo or other direct printing methods. All of the same special finishing options are available as well, soft touch coatings, foil stamp, spot UV, etc. After diecutting, the label becomes "one" with the corrugate, and the outcome is a very high quality, very strong carton.

Ask to see samples of our paper board or corrugate cartons. We'd love to help you with your next packaging project.