Frequently Asked Questions
Below you'll find a compilation of answers to questions we commonly hear from customers. If you cannot find what you're looking for, please don't hesitate to contact us. We want you to have the information you need to get the final result you want.
1. How do I go about getting an estimate from you?
Simply use our online estimate request form by clicking HERE. Otherwise, the best way to ensure that we get all the information necessary to do an accurate quote is to give us a call and speak with one of our customer service representatives.
2. What information or "Spec's" do we need in order to provide an accurate quote? And why is this information important?
Quantity – This can be one quantity or a range, we can provide up to 5 quantities (or more if needed). Other that the obvious reasons, the quantity also determines which print method will be most economical for your project.
Size – both flat size and finished size if applicable. Along with quantity, the size of your print project is the most important information and has the most impact on price.
Paper (Stock) – Stock is the primary material cost of a printed project and there are many choices available. Paper weight, text or cover, and paper finish are needed. See paper section for more info about the different categories and finishes.
Inking or Color Spec's – In general, we need to know how many colors per side and whether your artwork "bleeds" off the edge of the piece or not. Full color printing is considered as 4 color process (CMYK). Examples are 4/0 with bleeds, 4/4 with bleeds, or 1/0 black ink no bleeds.
Finishing Information – Does the piece just trim to final size? Fold? Score? Diecut? Foil Stamp, Emboss, Deboss? If it's a book, does it saddlestitch? Perfect bind? Other binding option? Does the piece get mailed? Anything that needs to happen to the piece after printing.
3. How long will it take for you to complete my order?
Every job is different. Some jobs can be produced in minutes while some may take several days to complete. Let us know when you need your job completed and we'll let you know if it can be done. We go to great lengths to meet even your most demanding timelines.
4. What is the best file format for submitting a document for printing?
The Portable Document Format (PDF) is generally the preferred file format for submitting a document for printing as it works with virtually all professional printing and digital output devices. By design, a PDF file incorporates the information needed to maintain document consistency from system to system. Most other file formats such as Adobe InDesign, Illustrator and Microsoft Word are easily converted to PDF format.
5. What is a proof and why is it needed?
A proof is a one-off copy of your printed document used for visual inspection to ensure that the layout and colors of your document are exactly how they are intended to be. A proof is made prior to sending the document to the press for final printing.
Typically, we will produce a proof that will be sent to you online in PDF format or on printed paper, which can be either viewed in our store or delivered to you in person. For multiple-color jobs, we can produce a proof on our output device to show you how the different colors will appear on the final product.
Your approval on the final proof is the best assurance you have that every aspect of our work and your own is correct, and that everything reads and appears the way you intended. Mistakes can and sometimes do happen. It benefits everyone if errors are caught in the proofing process rather than after the job is completed and delivered.
6. What does "camera ready" mean?
In the digital age of printing, it means that an image file submitted for printing is ready to be transferred to the printing plates without any alterations.
7. What are Pantone colors?
Pantone colors refer to the Pantone Matching System (PMS), a color matching system used by the printing industry whereby printing colors are identified by a unique name or number (as opposed to just a visual reference). This helps make sure that colors turn out the same from system to system, and print run to print run.
8. What is the difference between coated and uncoated paper stock?
Coated vs. Uncoated - A DONUT STORY
OK, here's where the donut analogy comes to play. As you can see, a coated donut has a smooth, shiny finish, while the uncoated donut has a dull, textured finish. This is like coated and uncoated paper!
So, what's the difference when it comes to printing? When ink is applied to uncoated paper it seeps into the fibers of the paper and can spread out a bit. This makes for softer colors and a more muted look.
When paper is coated, the coating creates a barrier between the ink and the paper fibers. Because the ink sits on the coating and doesn't seep into the paper fibers it produces sharper images and deeper colors.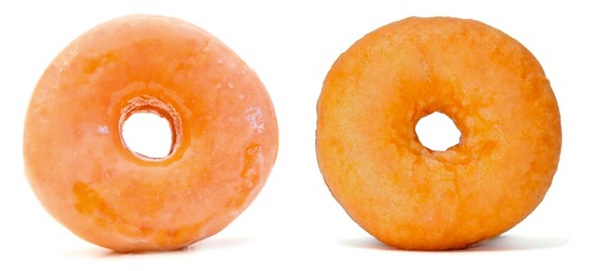 9. Is white considered a printing color?
No. White is not generally considered a printing color as typically the paper itself will be white. If a colored paper (something other than white) is chosen, then white becomes a printing color if any text or graphics require it.
10. What are the standard sizes for postcards?
Postcards are found in three common sizes: 4" x 6", 5" x 7" and 5 1/2" x 8 1/2".
11. What are the most common card stocks used for postcards?
The most common card stocks used for postcards are:
100# stock coated on both sides: The most popular postcard stock
100# stock coated on one side: Well suited to mailing
12 pt. stock coated on both sides: a premium coated stock
12. What are the types of bindings I can use for multi-page projects?
Some of the common methods of binding books and other multi-page documents include:
Perfect binding:
Gluing the outside edges of the pages together to create a flat edge.
Saddle-stitch binding:
Using staples along the folds of the pages to bind them together.
Spiral binding:
Wires in a spiral form threaded through punched holes along the binding edge of the papers. Allows the document to lay open flatly.
Plastic comb binding:
Similar to spiral binding but using a tubular plastic piece with teeth that fit through rectangular holes punched into the binding edge.
Three-ring binding:
Holes are punched into the pages and fitted into a binder.
Case binding:
Sewing the pages together and then attaching them to a hard cover.
13. What are the pros and cons of digital printing?
Pros

Fast
Up to 80 impressions a minute
Little setup time
Use of variable data
Output is printed on both sides, dry and ready for any bindery work
Colors are bright and brilliant
Images are crisp
Cons

Toner layers
Dark inks are always glossy
Cannot print on stock under 50# or on stock over 130#
Cannot run plastic or metallic stocks
Cannot run standard envelopes
Cannot accurately match most Pantone colors
Printed pieces cannot be imprinted or printed on with customer's laser printers
14. How to choose between offset and digital printing:
Typically, quantity (because of cost) is the most deciding factor between digital and offset, second only to deadlines.
Offset

Better and more cost effective for larger runs
The right choice when a specific Pantone color or metallic ink must be used
The choice when the stock sheet size exceeds 23" x 29"
If the printed piece must go back through a customer's laser printer, you need to use offset printing
Digital

More cost effective for shorter runs
Perfect for shorter runs with multiple originals – even with different quantities of each
When a short deadline must be met
When the job uses variable data
15. What is the best file for digital printing?
The perfect file is a flattened PDF.